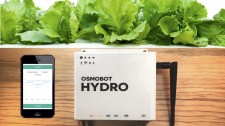 OsmoBot, the affordable online hydroponic and aquaponic monitoring system, recently surpassed its funding goal on Kickstarter and is now 134% funded with 24 days left in the campaign.
Berkeley, CA, November 7, 2016 (Newswire.com) - Osmo Systems, Inc. recently launched their hydroponic and aquaponic monitor, OsmoBot, on Kickstarter. Starting at $450, OsmoBot Hydro monitors water, air, and light quality through eight parameters: pH, EC/TDS, water temperature, water level, air temperature, relative humidity, lux, and PAR, and uploads the readings to the cloud. Users can log into a browser-based dashboard to do things like:
Perform a quick system check to make sure everything is OK.
See how their pH has changed over the past week.
Setup text/email alerts for when something goes wrong.
Aquaponic and aquaculture growers can upgrade their system with Osmo Systems' patent-pending dissolved oxygen and ammonia sensor. Relying upon optical sensing technology, this innovative sensor system continuously monitors dissolved oxygen and ammonia at a price that is a fraction of what exists on the market today. Packages with OsmoBot Hydro and the dissolved oxygen and ammonia sensors start at $550.
From June - October 2016 Osmo Systems shipped over 60 OsmoBots to beta testers in the United States and internationally. These testers were a mix of hydroponic, aeroponic, and aquaponic systems and ranged in size from universities to commercial greenhouse to backyard hobbyists. Reviews and testimonials from the beta test can be seen on Osmo Systems' Kickstarter campaign.
Osmo Systems has a number of upcoming features in the works, including system automation. This will allow growers to setup high and low thresholds for a parameter and their OsmoBot will automatically turn on or off pumps, fans, or lights to keep their system balanced. All OsmoBots ordered through Kickstarter will be compatible with the automation hardware Osmo Systems will release in 2017.
To learn more, go to Osmo Systems' Kickstarter campaign.
Source: Osmo Systems Inc.
Share: