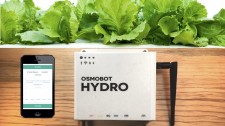 OsmoBot Hydro has everything you need to monitor your hydroponic system's water, air, and light quality online. It starts at $450 on Kickstarter.
Berkeley, CA, November 2, 2016 (Newswire.com) - ​​Osmo Systems Inc., a hydroponic monitoring company, is launching their flagship monitor, OsmoBot Hydro, on Kickstarter. Starting at $450, OsmoBot Hydro continuously monitors eight parameters (pH, EC/TDS, water temperature, water level, air temperature, relative humidity, lux, and PAR) and uploads the readings to the cloud. Users can log into a browser-based dashboard to do things like: perform a quick system check to make sure everything is OK, see how their pH has changed over the past week, and setup text/email alerts for when something should go wrong.
The company recently concluded its beta test. From June - October, 2016 Osmo Systems shipped over 60 OsmoBot Hydros to testers both in the United States and internationally. These testers included universities, commercial greenhouses, and hobbyists, and were a mix of hydroponic, aeroponic, and aquaponic systems. Reviews and testimonials from the beta test can be seen on Osmo Systems' Kickstarter campaign.
Osmo Systems began in 2013, when co-founder, Zach Stein realized that the monitoring and sensor system CTO Paul Holowko had built to monitor his biosphere project (a system for growing food in space), could be very useful for hydroponic systems. Since then, the duo, and later third co-founder James Regulinski, aimed to build a system that met their design goals: "everything you need to monitor your system, in one box, at the right price." To accomplish this, the team combined existing off-the-shelf technology with a number of sensors they designed themselves. OsmoBot Hydro, represents the sixth iteration of these efforts.
All units purchased through the Kickstarter campaign will have two open ports that allow users to upgrade their system with additional sensors (dissolved oxygen, ammonia, CO2) and automated control features (automatically turn on/off pumps, fans, CO2 generators, etc). These sensors/controllers will be available for purchase in 2017 and will be compatible with all units purchased through the campaign.
With a projected retail price of $600, OsmoBot Hydro's are being offered at a discount for the month of November, 2016. A limited number of units will be available for $450, with the general price being $550. Units can be ordered through Osmo Systems' Kickstarter campaign here.
Source: Osmo Systems Inc.
Share: